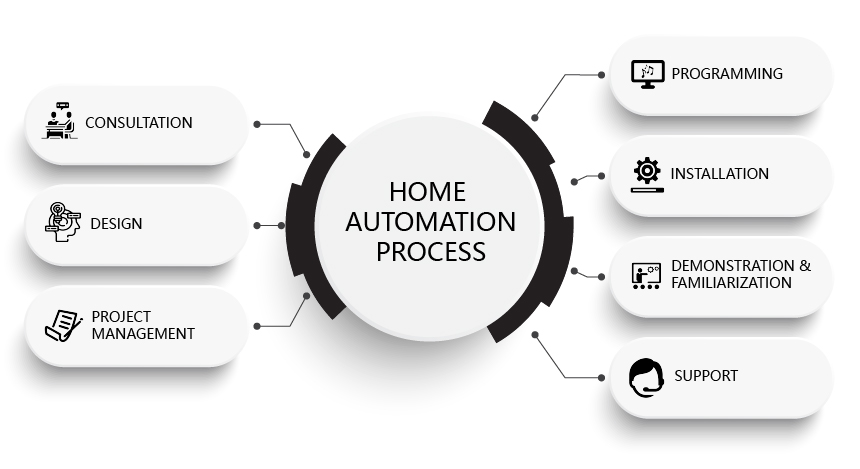 Prior to beginning the project, it's extremely important for us to meet and discuss what's exactly on your mind. This helps us propose the right set of products and themes to fit your requirement. This is usually done both on the job site and at our office, where we shortlist the best plans. Thereafter, we prepare for the next steps of Design and Pre-wire.
Creative and effective integration needs a focused plan, layout, and design. Our advanced design services ensure the highest level of professional delivery. From automation control of switches to fully themed Home Cinemas, we are here to envision it for you and make it a reality.
MSR being a single source solutions provider of your Home Automation needs ensures a smooth and hassle-free process. Instead of trying to coordinate with multiple designers to integrate your electronic systems into an aesthetic architectural plan, you can relax and watch everything being executed to perfection.
Our programming ensures that you get 200% performance from your Home Automation and Home Cinema and that it is easy to operate. For example, you can set your favorite shows and movies for your Home Cinema just like you can set your favorite room temperature and ambient lighting.
During this phase, the project truly starts to take shape! From the speakers to light switches, alarm panels to mood detectors, and many other system components… everything integrates together in perfect harmony. Our state-of-the-art process is seamlessly woven together.
DEMONSTRATION & FAMILIARIZATION
After the entire 'Dream Home' project is complete, it is always an unbelievable experience! We take you slowly through the entire process in our final demonstration. We ensure that you can control the entire system with surety and ease. Then, we do the final handover.
We have a robust support system where our engineers can attend to your queries. Also, in case you are facing difficulties in operation, we assist you to make you more familiar with the systems. Again, if you need fine tuning in terms of sound settings, or minor adjustments we are readily available.